Let's take care of your teeth. Regular dental visits for the whole family are an essential part of taking care of your general health.
Look after your oral health by letting our trained and certified hygienists help you establish a good routine. 
At expatdental®, our oral hygienists and dentist can help educate and encourage your child to take great care of their teeth. 
Don't live in pain! If you have discomfort when chewing or eating, or sensitivity to hot or cold, let's figure out what's going on.
Need a dental filling? Dental fillings can now be done very conservatively, maintaining as much healthy tooth structure as possible. 
A combination of treatments designed to restore your smile to its healthy best. We offer a variety of treatments for your unique needs.
Lost or removed teeth? A dental implant can be a permanent solution to getting your smile and functionality back. 
Root canal therapy is a "endodontic" treatment that is done to save your tooth by removing the tissue and nerves from the dental pulp.
Tooth and/or gum pain can have a big impact on your daily life. If you're in pain, let our dentist figure out how best to help.
Let's digitally design your smile together! Discover our comprehensive process to help you get the smile of your dreams.
We don't believe in a one-size-fits-all orthodontic approach. expatdental® offers a wide range of orthodontic treatments.
A range of procedures to enhance the appearance of your teeth and smile, and in some cases may also provide restorative benefits.
Cosmetic dentistry shouldn't start and end inside the mouth. Our dentists can provide in-office injectables and dermal fillers.
Dental veneers are thin layers of synthetic material that cover the front of the teeth to improve the appearance of your smile.
Show off a brighter smile! Whiten your teeth in our office or at home – choose what best fits your time and budget.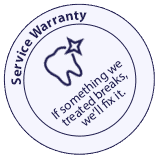 Our Service & Material Warranty
You keep up on your regular routine cleanings and if something we treated breaks, we'll fix it at no cost to you.

Learn more
A team that always wants to get it right.
Our expat dentists are passionate about what they do and—more importantly—about helping you. We believe in building relationships with our clients, whether you call Singapore your permanent home or only plan on staying here for a few years.

Internationally trained & certified
Our dental team comes from the US, UK, Canada and Singapore, and has more than 55 years of combined experience in dentistry.

Transparent pricing. No Surprises.
You will have the full breakdown of any treatments and pricing upfront so there are no surprises.

We believe in your happiness
If you aren't satisfied with a treatment, we will discuss your concerns and figure out the best way to help. This is just one of the reasons more than 11,000 clients have chosen expatdental®!
I've been going to Expat Dental for over 7 years and have been happy with all of their services
(cleaning, mouth guards, injections for grinding, whitening, etc). I can't speak highly enough about both Dr Matt and Shaun! They are by far the best dentists I have found in Singapore.
I am so happy with that care that I have received from the whole team at Expat Dental.
The clinics are amazing with all the best tech to help keep me comfortable and entertained during my treatment.
Who would have thought that I could look forward to my cleaning and a chance to lay down and watch Netflix! The dentist's are caring and and gentle make sure that I comfortable and understand my treatment, time it will take and the associated costs. My hygienist was gentle and thorough. I actually look forward to going to the dentist now!
A big thank you to expatdental! They have been great dentists to my whole family.
A few years ago I had a complicated wisdom tooth procedure, and they handled it beautifully. Both my kids now go to expatdental, and it's great knowing they are already comfortable with going to the dentist. A truly fantastic experience.